The Inverted Hammer candlestick pattern is a powerful technical indicator, often signaling a potential market bottom and price reversal in downtrends. This versatile pattern can appear on both green and red candle bodies, with the green variant offering a stronger momentum signal. To ensure reliability, it's crucial to confirm the Inverted Hammer with trendline breaks or other candlestick pattern confirmations across various time frames.
Upside Down Hammer. The Open, Close, and Low of the Candle Body are approximately at the same price level.
A long wick that extends higher above and twice as long or more than the candle body.
The Inverted Hammer can form on both green and red bodies. The Green Candle is significantly stronger as the close time frame occurs at the candle's top. Strong Momentum signal.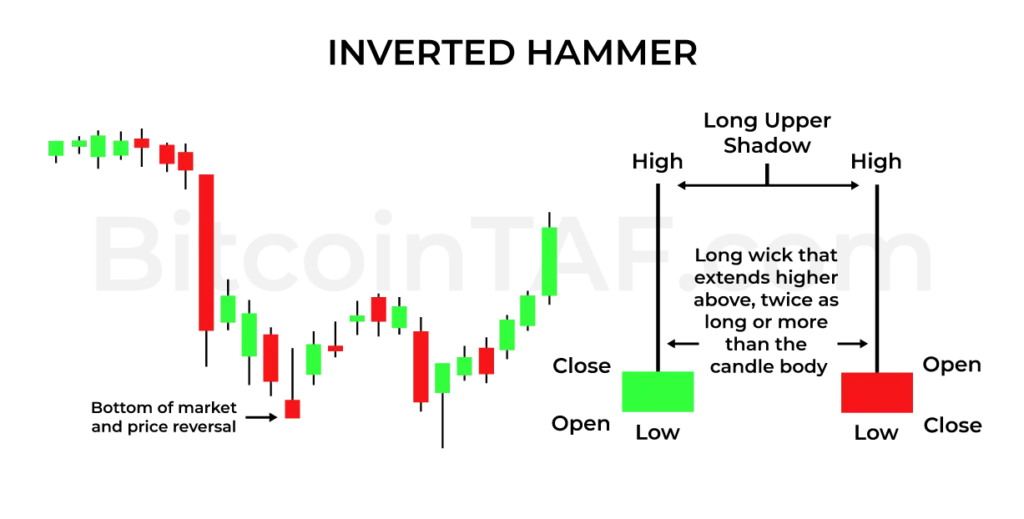 Inverted Hammers usually signal a bottom of a market as well as price reversal in downtrends. However, inverted hammers should first be confirmed with the confluence with trendline breaks or another confirmation of a candle. Hammers occur in all time frames.
Inverted Hammers are often used with confluence to identify "bear traps" in the market.