Looking for a powerful bullish signal in technical analysis? Consider the Bullish Harami Candlestick Pattern. This pattern is characterized by a bearish red candle with a large body followed by a smaller bullish green candle. In this article, we will explore the Bullish Harami Candlestick Pattern, including the candle body, wick, and colors, as well as its Modus Operandi and Fun Fact.
The first candle will be a bearish red candle with a large candle body. The second candle will be a bullish green candle with a small body. The first bearish candle body has a 4x larger body than the second bullish candle body. The second bullish candle should be around 25% of the length of the previous bearish candle.
The wicks on both candles can range from short to medium.
The Bullish Harami has two candles. The red candle always precedes the green candle.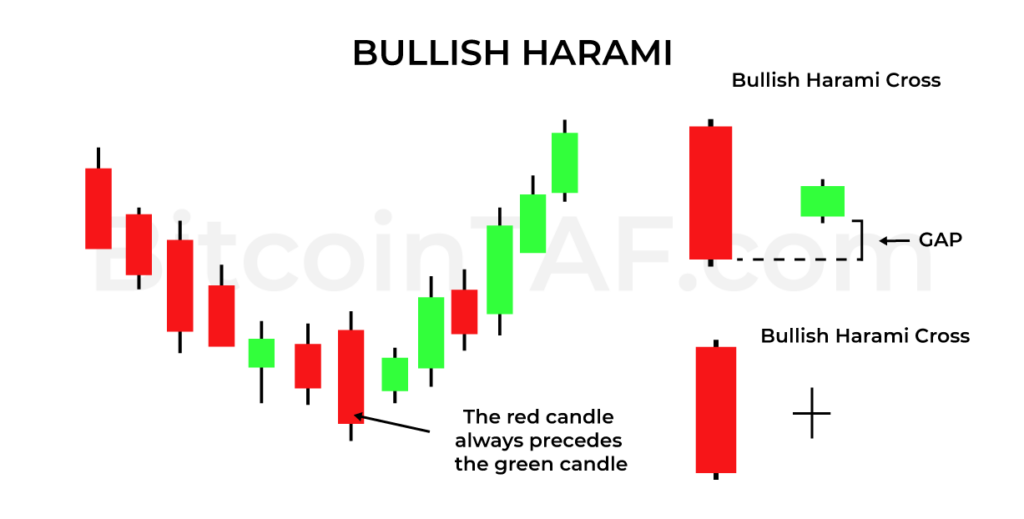 Bullish Harami Candles usually occur at the bottom of a downtrend. There must be a significant GAP of where the red candle closes, and the green candle opens. It is important to use this candlestick pattern in confluence with other indicators. Very effective with Fibonacci S/R levels.
The name "Harami" means pregnant in Japanese. The Candlestick formation is similar in appearance to a pregnant woman. The Bullish Harami can also shapeshift into a Bullish Harami Cross sometimes.