The first candle body is a bullish green candle, medium to long. The second candle GAPS up and become a "Doji" candlestick. The third candle GAPS down and ends as a strong bearish red, also preferably medium to long.
The first and last candle wicks are usually medium in length. The last green bullish candle might have no wick at the bottom close position.
The Bearish Abandoned Baby has two candles and a Doji Candlestick Pattern. The first green candle always precedes the Doji, and the last red candle. There are clear GAPS after the bullish green candle close and the bearish red open.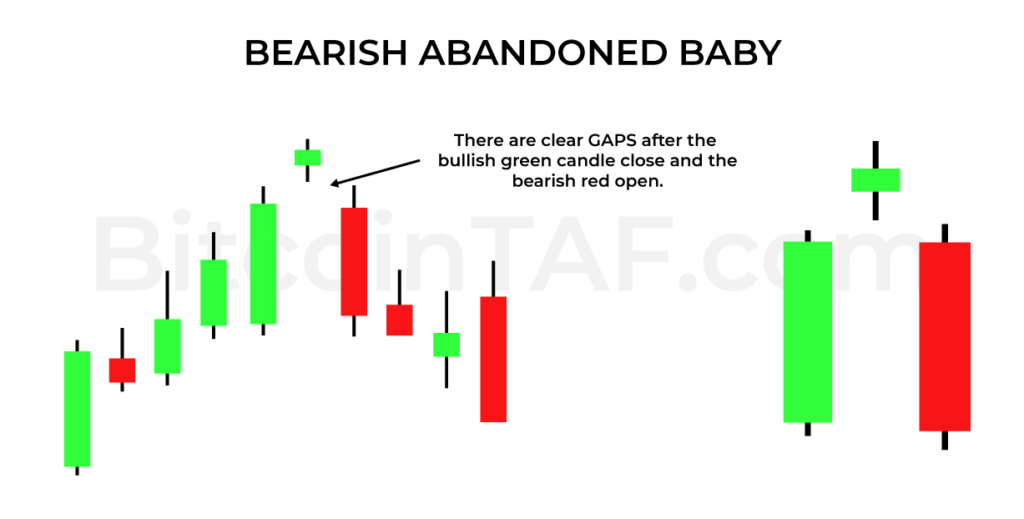 There are apparent GAPS after the first bullish green candle close and the last bearish red open. The bodies of the three candlesticks should not overlap from body 1 to 2 and from body 2 to 3. This pattern appears towards the end of an uptrend. Doji's are commonly associated with indecision
The name for this pattern was derived from the clear gaps that exist between the two candle bodies and Doji pattern.